About
Message from Founder
Sport For Smile is the first-ever platform in Japan to harness the power of sport for social change. It aims for empowering socially marginalized people using the power of sport, while creating a community of sport-for-social-change in Japan. We have been fortunate to be supported by globally recognized social activists including Schwab and Ashoka Fellows.
The power of sport is generally recognized as something that can give dream and hopes in Japan, but at a global level it is effectively used to change the world, with the IOC partnering with UN for example, and the movement is involving more people and organizations. As Nelson Mandela said, "sport can change the world," and we are proud of being a part of the global community of sport-for-social-change.
By using the power of sport, we can heal the mental trauma of the children in conflict zones or disaster affected areas, empower vulnerable children and women, and get the voice heard from minorities. It is said that there are more than several thousands of organizations and programs in the world that are making a difference using the power of sport, with numerous sports organizations, athletes, NGOs, governments and corporations are involved.
As you know, there are countless people in the world who need help, and these days there are many social issues to be solved in our country as well. Sport is not a cure-all medicine, but we strongly believe that it has the power to change the world, and occasionally works as a magic to let everyone's soul shine, as well as works as educational and empowerment tools, as our peers have proved globally.
Sometimes it might be hard to give "hope," but we promise to bring about at least "smiles" harnessing the power of sport even to people of the most need. And we take challenges on creating paths for sport to reach out even to people who cannot ask for help by themselves.
Everyone can change the world, and sport is a powerful and fun tool to do so. We hope more people can join the global force of changing the world harnessing the power of sport, and we are very much looking forward to working with you.
Warmest smile,
Mie Kajikawa
Founder of Sport For Smile
Founder Profile [LinkedIn]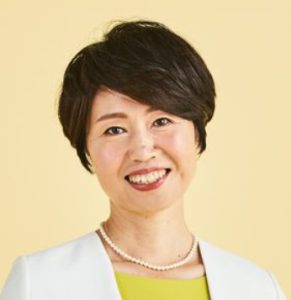 Graduated from Nagoya University in 1995, majoring in Sociology, Mie worked with a travel agency before studying French in Paris, and work for Nagano 1998 Olympic Games as an interpreter. After working with foreign-affiliated financial firms in Tokyo, she earned her Master's degree in Sports Administration from Ohio University in 2005, upon completion of an internship with the National Basketball Association's (NBA) Detroit Pistons as the first-ever Japanese female business intern.
Spending one year in New York, she returned to Japan immediately prior to the FIBA 2006 World Basketball Championship at which she assisted various NBA and other basketball officials. She later gained employment with Accenture Japan Ltd., where her duties included serving as a liaison officer to a former US Secretary of State. In 2007, she took up a position at the Tokyo 2016 Olympic and Paralympic Bid Committee again serving as a liaison officer for VIPs including the late IOC Honorary President Juan Antonio Samaranch, the Japanese Chief Cabinet Secretary and various ministers of the Japanese government. She was also appointed as both Sports Manager and Marketing Manager.
With a particular passion for the sport of basketball, she has also contributed several articles to the leading Japanese basketball magazine Basketball Monthly, reporting on FIBA, global basketball as well as marketing and social responsibility topics. Fluent in English and with basic conversational abilities in French, she has visited many global basketball and sports events including Michael Jordan's Senior Flight School, various FIBA World Championships, Olympic Games and several international conferences on the topic of the power of sport to bring about positive social change.
To realize her long-time career goal of changing society by harnessing the power of sport, she has established her own company, Cheer Blossom, Inc. in July 2010 and contributed to Japanese pro basketball league in establishing its social responsibility initiative "B LEAGUE Hope," followed by several clubs' initiatives.
Mie is also active in non-profit projects, and Sport For Smile welcomed UN Under Secretary General Sports Special Adviser as well as collaborated with World Bank being selected as an official side event of its General Assembly in Tokyo in 2012. In 2014, she started the Sports Mentoring program that helps DV victim children, which won the HEROs Award 2019, and  in coping with the climate change, she launched Sport For Smile Planet League in 2021 to create a community for Japanese pro sports clubs to collectively take actions and to join "Race to Zero."
She received EY Ground Breakers Award in 2011, and spoke about the power of sport at TEDx Aoyama Women, as well as selected as a member of Panel of Personalities of "ScenaRio 2012" on the occasion of Rio+20 and a mentor of "TOMODACHI Women's Leadership Program" led by US Embassy in Japan. She has spoken at various business conferences and youth seminars about the power of sport and social inclusion, including the ones organized by Peace and Sport by Prince Albert of Monaco, Economist, Ashoka Japan, Weslay Foundation, Sport Positive Summit, BBC, JOC (Japan Olympic Committee) and by UNU-IAS (United Nations University Institute of the Advanced Study of Sustainability). After earning the certificate from Harvard Extension School, she also works as speech trainer and coached Paralympian Mami Sato as well as executives and young people.