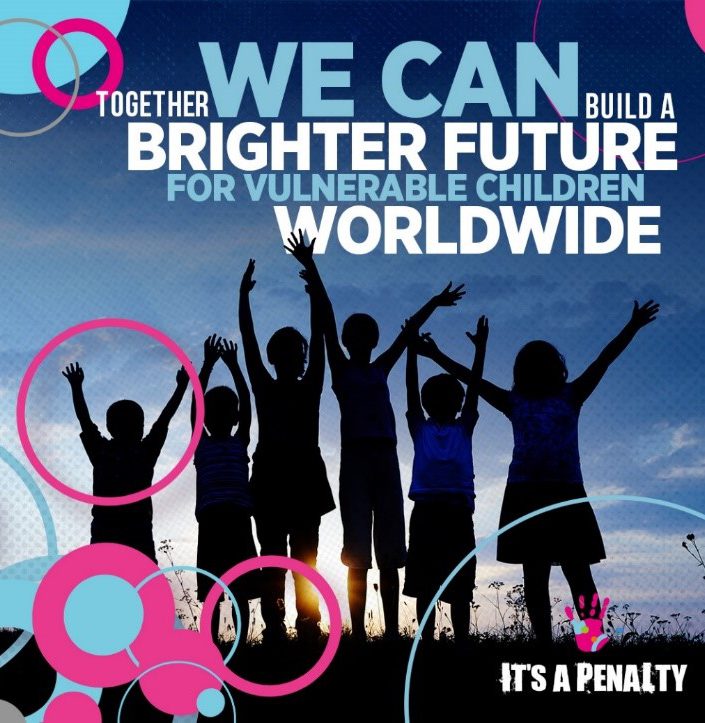 It's a Penalty Anti-Trafficking Campaign supported by international sporting icons
 Usain Bolt, Cathy Freeman, and Francois Pienaar launches Youth League in Tokyo
to empower young people to become change makers.
On the World Day against Human Trafficking, It's a Penalty Campaign, in partnership with its Strategic Partner NGO in Japan, Sport For Smile, is pleased to announce that Usain Bolt, Cathy Freeman and Francois Pienaar will join the It's a Penalty 2020 Campaign that will run during the Olympic and Paralympic Games next summer.
The sporting icons will appear in the Campaign's new awareness film and official materials such as posters and wristbands. The film will be shown by international airlines flying around the world and into Tokyo from July to September 2020, covering the period of the Olympic & Paralympic Games in Tokyo.
The It's a Penalty Campaign, harnessing the power of sport to prevent abuse, exploitation, and trafficking globally, has been successfully delivered during seven global sports events so far, including the 2014 World Cup in Brazil, the 2018 & 2019 NFL Super Bowl events as well as the Olympics & Paralympics Games in Rio de Janeiro and Pyeong Chang, endorsed by the IOC and partnered with the LOCs.
The Campaign is also supported by high profile sporting icons, international airlines, hotels, governments, law enforcement agencies, international NGOs and the general public. It was started to respond to the report that the risk of exploitation and human trafficking will be increased during mega sports events, and the Campaign's awareness messages have reached millions of people worldwide, and helped to protect thousands of victims from abuse, exploitation and trafficking.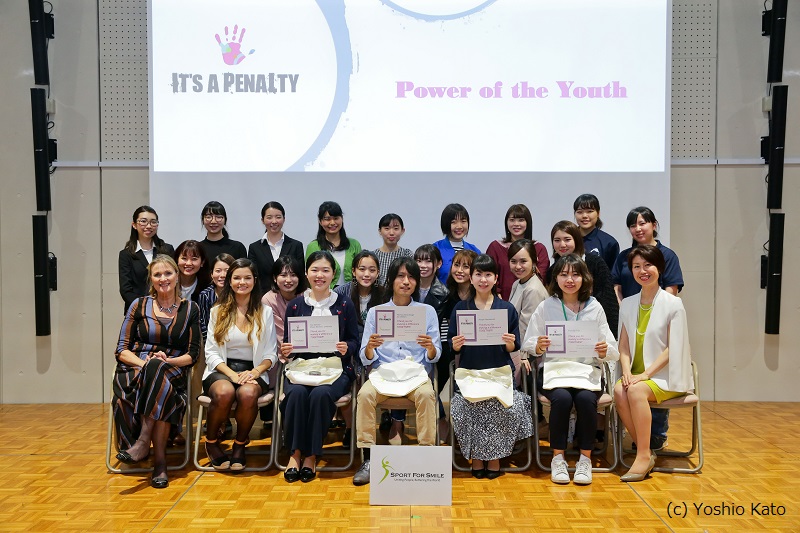 Towards the official global launch of It's a Penalty 2020 Campaign that starts next July, SFS will launch the "It's a Penalty 2020 Youth League" in September to encourage young people in Japan to organize seminars and spotting events to raise awareness of the critical global issue of human trafficking, in any scale with specific SDGs-aligned conditions. Some recognized NGO leaders and practitioners with knowledge and experience with human trafficking issues and corporate leaders have already committed to volunteering to speak for these events, which will also be an opportunity for young people to gain confidence and experience of making a difference using the power of sport and positively being a part of the Games.
The CEO of IAP Sarah de Carvalho says: 'Young people's participation is absolutely vital if we are going to succeed in our joint mission to build a safer and better world for the future generations. We are counting on them to join our initiative, to come alongside our global sporting supporters, to learn and have a voice in their nation and the world. As part of the It's a Penalty 2020 Youth League, they will become history makers for social justice.'
Founder and representative director of Sport For Smile Mie Kajikawa says: 'We are so grateful to make a difference together with globally recognized athletes, and sincerely appreciate their support, helping people who are most in need and demonstrating how the power of sport should be used in the 21st century. We also appreciate NGO and corporate leaders to help young people take action, and we promise to pass their generosity onto the future.'
If you are a practitioner of NGO or business leader with experience of human rights and/or trafficking, please email: iap2020@sport4smile.com
The details of the IAP 2020 Campaign Youth League will be announced on Sport For Smile website: [www.sport4smile,com] on September 6, the date of closing ceremony of Paralympic Games.
About Human Trafficking and Mega Sports Events:
Human trafficking involves 5.5 million children worldwide (ILO)
Every year, 1.8 million children are subjected to sexual exploitation (ILO)
Global sex trafficking and exploitation generates $99 billion USD in illegal profits each year for traffickers (ILO)
The huge influx of tourists and sporting fans to a country during a major sporting event can increase the risk of children being abused, exploited and trafficked (University of Dundee)
The number of arrested case last year was 36, but it is said that it is still tip of the iceberg.
 About It's a Penalty
A charitable Non-Governmental Organisation working to end abuse, exploitation and trafficking globally. Campaigns run by It's a Penalty around major sporting events harness the power of sport to protect children and vulnerable people from these crimes worldwide, positioning these events as platforms for positive change. It's a Penalty brings together sport's biggest names, governing sporting bodies, international airlines, hotels, governments, law enforcement agencies, corporations, international NGOs and the general public. Our latest 2019 Campaign has been shortlisted by Beyond Sport for the Global Impact of the Year Award. Alongside our campaign work, It's a Penalty's research and advocacy work seeks to impact long-term change for children worldwide by improving child protection legislation and reporting mechanisms on a global scale. For more information on It's a Penalty, please visit www.itsapenalty.org.
 About Sport For Smile
Sport For Smile is the first-ever platform in Japan to use sport for social change, supported by globally recognized figures including Schwab and Ashoka Fellows. It has delivered events and campaigns with Sport For Smile Alliance member organizations and has collaborated with UN and World Bank. Since 2014 it implemented Sports Mentoring program to help children of DV victim families have the access to sport. On the occasion of FIFA 2014 Russia World Cup, it empowered young generations in Japan and Asia by awarding best ideas of making a difference using the power of football, funded by the official NGO partner of FIFA.
Official website: https://www.sport4smile.com/en/
END
Notes to editors:
For all media enquiries, please contact Sport For Smile
T: +81-3-6315-3984
E: media2020@sport4smile.com